How Marea Verde Is Modeling A Holistic Solution to the Plastic Pollution Problem
McNULTY PRIZE WINNER
Plastic pollution is one of the great crises facing humanity in the 21st century; humans are now estimated to ingest several grams of plastic every week, and it is present in virtually all of our tissue. Millions of tons of plastic make their way into oceans every year, where it breaks down into microparticles that re-enter the food chain. Almost all of it arrives from the rivers of nations lacking adequate waste management systems. Per capita, Panama is the second largest producer of trash in Latin America, much of which ends up in its rivers, and Panamanians list this trash as the second most pressing concern in the country.
Marea Verde tackles the daunting global challenge of plastic pollution by taking a holistic approach of technology and advocacy to model how communities across the world can be part of the solution.
At Marea Verde, we see everything interconnected. One action will not solve the problem. Our ambition is to provide a model that can be replicated around the world.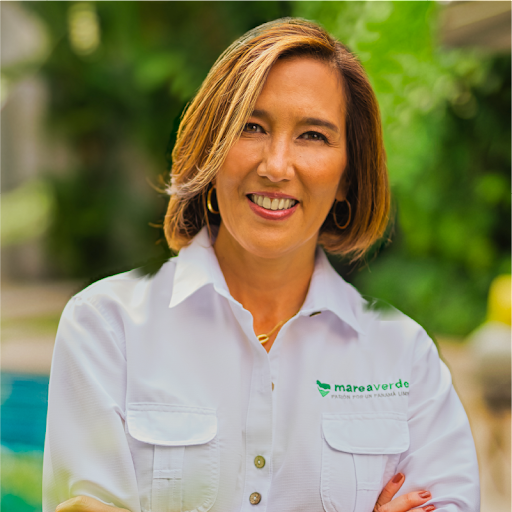 Mirei is a visionary leader and environmentalist who has made significant contributions to Panama's conservation efforts. She made history by establishing Panama's Ministry of Environment and serving as its first Minister. Due to the limitations of government work, Mirei pivoted to a grassroots approach. Undeterred by widespread cynicism, she understood that true progress required engaging and motivating a diverse range of individuals. "Many would have found the challenges Marea Verde faced to be insurmountable, but Mirei has overcome them," President of Clearwater Mills, LLC & Trash Wheel Inventor John Kellett said. "Her leadership has inspired other communities to join the cause."
Administrator of the Panama Environmental Authority in 1994
First Executive Director of CALI in 2007
Panama's 1st Environment Minister in 2014
Founded Marea Verde in 2017
Wanda Diaz begins operations in 2021
Mirei turned to the issue of plastic pollution, landing on the Juan Diaz River to attack the issue at the source. With 16% of the country's population living in its watershed, Juan Diaz is arguably the most important of Panama's 600 rivers, and it was choked every day with trash.
To address this immediate pressure, Mirei recruited a star: Mr. Trash Wheel, a floating conveyor belt with googly eyes that found global fame pulling trash out of Baltimore harbor in the United States. Since its debut in Baltimore in 2014, Marea Verde proves that the water wheel technology can be replicated even in more difficult contexts, installing a trash wheel on the Juan Diaz river which has come to be known as Wanda Diaz. Through perseverance Mirei was able to prove she could hire people to sort out all the plastic they gathered and make the trash wheel a local celebrity, accomplishing the goals of direct collection, data gathering, and awareness-building.

Bi-weekly
Door to door recycling pick up programs in previously unserved communities
1 Million
Pounds of trash removed from the Juan Diaz river from 2018-2022
35
Schools participating in Marea Verde education programs
Most of Marea Verde's work is the much harder and more important process of systems change. Some of it is education—they help people understand the permanence of plastic and how it persists in rivers, oceans, and food webs. They have education programs in over 35 schools as well as organize community cleanups, volunteer activities, and environmental entrepreneurship programs. The other half is leveraging the awareness Marea Verde generates. Government partnerships have resulted in a joint collaborative program that implements door-to-door recycling programs in communities. Using AI and drone data, they inform local and national policies, programs, and best practices.
Each segment of their work has a deep impact—Wanda Diaz collects over 12,000 pounds of trash per month; their awareness campaigns have reached a vast international audience; they've built roads using recycled plastic as asphalt; and their evidence is influencing the UN Global Plastics Treaty. Marea Verde provides a global model to impact plastic reduction efforts and legislation on an international scale.

view all impact stories