In the face of COVID-19, the Global Response Fund recognizes critical efforts to support communities in crisis.
JUNE 18, 2020
Since late March 2020, the McNulty Foundation's Global Response Fund, a partnership with the Aspen Global Leadership Network, has deployed over $1.2 million to organizations reaching vulnerable communities in over 20 countries. We invite you to learn more about their efforts to address the devastating impacts of the COVID-19 pandemic.

$1.2 million
grants awarded
78
organizations supported
20
countries reached
As the COVID-19 pandemic brought the world to a halt in late March, the McNulty Foundation, in partnership with the Aspen Global Leadership Network (AGLN), launched a rapid response fund to support critical response efforts around the globe to address emerging needs in disproportionately affected communities.
70 projects, all led in some way by Fellows of the AGLN, have been awarded a total of over $770,000 for their work directly supporting vulnerable communities in over 20 countries. We invite you to learn more about the Global Response Fund grants below.
We have been humbled and inspired by these leaders and their communities, and by the range and depth of their ongoing efforts to alleviate suffering and build a more resilient future.
Because of the enormous need, funds have been focused on supporting immediate and direct responses to the COVID-19 crisis. In addition to this criteria, these grants were grounded in the Foundation's key principles: prioritizing organizations where our level of support can make a meaningful difference, efforts that are guided or led in some way by the community they intend to serve, and efforts that uphold a commitment to equity.
As the crisis evolves, we are continually seeking the best ways to amplify and support our partners' work as they move through different stages of this crisis, including rebuilding and long-term resiliency. We recognize the critical nature of these ongoing efforts, and the need to continue supporting bold and courageous leadership during this time.
In partnership,
The McNulty Foundation Team
The COVID-19 pandemic represents a unique moment in history to redesign a more equitable society. We must all lean into uncertainty if we are to seize the opportunity.

ISSUE AREAS

All 68 projects serve vulnerable communities or resource-poor health systems, varying in the needs and issues they address.
About half focus on providing essential supplies and assistance to struggling communities, whether through food, medicine, hygiene kits, or economic and financial support.
Others are assisting in the direct public health fight against COVID-19, whether by spreading awareness and combating misinformation about the virus and healthy behaviors, filling the gaps in PPE, testing and contact tracing, or addressing the unique challenges in fields like mental health, rehab, and maternal health and delivery during a pandemic.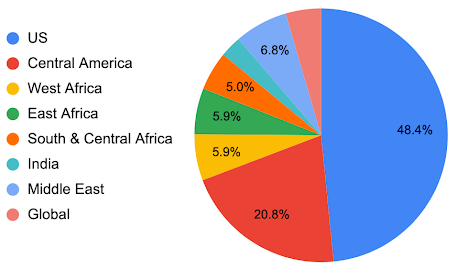 GEOGRAPHY

In line with the global nature of the AGLN Fellowship, the work supported spans over 20 countries.
These needs varied widely across Fellowships and regions, depending on factors such as when the disease emerged locally, and the level of support (or lack thereof) from relevant government agencies.
The Black Equity Collective is focused on stabilizing Black organizations whose work fosters social justice and racial equity by supporting their capacity to weather the economic downturn brought on by COVID-19.
COMMUNITIES
Fellows' organizations serve a multitude of communities disproportionately experiencing the negative effects of the pandemic on their health and livelihoods. In many cases, national responses tend to reinforce existing disparities, allocating more resources to those with the most access to capital and resources. We and our partners consciously prioritized filling in gaps.
Nearly half of the projects are in the U.S., and support primarily low-income students and families, immigrants, communities of color, and small businesses owned by women or people of color.
Around the globe, Fellows' efforts provide support to struggling families as jobs are lost, expand connectivity and digital resources for students and children with disabilities, assist the elderly and immunocompromised so they can stay safe at home, and provide supplies to migrant workers, smallholder farmers, refugees and communities in ongoing conflict. The efforts are as varied as the Fellows and their communities.
THE RECIPIENTS
Read below for a snapshot of some of these leaders and their efforts, and a full list of Global Response Fund recipients.

CREATIVE REACTION LAB, Antionette Carroll - United States
Providing micro-grants to Black and Latinx youth to undertake creative community responses to COVID-19 and support their communities' needs.
PROJECT ISAIAH, Devon Spurgeon & Blair Christie - United States
Preserving jobs while providing meals to families in need, by connecting pre-packaged airline meals with domestic violence shelters, food banks, senior housing facilities and other nonprofits in 11 major US cities.
LEBANESE FOOD BANK, Walid Maalouf - Middle East
Leading a massive national food distribution program to over 55,000 of the most vulnerable families on a national scale.
LÉO AFRICA INSTITUTE, Awel Uwihanganye & Magnus Mchunguzi - East Africa
Activating its network of young leaders to imagine a progressive, post-COVID world and push for forward-looking interventions in East African communities and countries to support a sustainable recovery.
FUNDESA, Juan Carlos Paiz, Maria Kaltschmitt, Jose Miguel Torrebiarte, Salvador Biguria, Roberto Paiz - Central America
A collaboration of Fellows working to support Guatemala's fight against COVID-19; to date, providing 38,000 PCR tests, 29,000 extraction kits and 51,500 swabs.
Never has our commitment to the neighborhood been stronger than aiding our neighbors during the COVID-19 pandemic. We are providing our neighbors with the essentials they need to provide for their families during these uncertain times.
view all impact stories