Swasth Alliance is creating a platform for universal healthcare in India
When COVID-19 reached India, it found a fragmented health system that struggled to respond effectively. India's healthcare system is split into under-funded public facilities and 60% of care delivered by the private sector, much of it paid out of pocket rather than through insurance. Hindering the ability to provide better care in both private and public markets was the lack of common systems for health records or claims. Like many organizations responding to the pandemic, Swasth was initially launched to speed up the delivery of care directly related to COVID-19; in two years, they installed over 60,000 medical oxygenation devices, thousands of oxygen cylinders, BiPAP devices, and tens of thousands of pulse oximeters in over 500 districts. In partnership with the Lakshmi Mittal & Family South Asia Institute at Harvard, they convened regular clinical updates for doctors, and created content that was used to train over 30,000 last-mile responders, among many other accomplishments.
We need to leverage technology to develop urgently needed healthcare solutions. At Swasth, we are building the health system that India needs and deserves.
As they worked, however, they came to appreciate the need for a single common platform that could both improve care under the current system and lay the long-term groundwork for universal healthcare. Today, Swasth is an alliance of over 150 organizations — hospitals, clinics, frontline physicians, and scientists, as well as computer scientists and programmers delivering their platforms. Together, along with over 80 dedicated high-skill volunteers, Swasth and their allies have created the Health Care Exchange, a common platform for health records and claims that will help citizens get the best health results out of their benefits, insurance, and money—and ultimately, to make a truly universal system possible for all of India. Swasth has engaged both regulators and private sector health organizations to create a unique consensus, and India's insurance regulator, IRDAI, has appointed Swasth's founder and CEO Dr. Ajay Nair (along with hospital and insurance CEOS) to their committee on Data, Technology, and Standardization. Swasth has already helped improve India's health system during a time of crisis, and now they are laying the groundwork for stability going forward.
300,000+
patients served across Indiia
30%
of Indians do not have health insurance
100,000+
medical devices provided to over 500 districts across India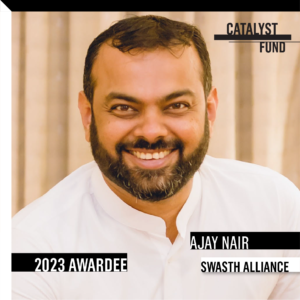 Dr. Ajay Nair is the Founder and CEO of Swasth Alliance. A long-term health advocate, he has worked across public health, social impact, technology, and the private sector throughout his career which has provided him an in-depth understanding of India's health systems. His work has centered on serving disadvantaged and marginalized communities.

view all impact stories