Reconstruction US: delivering Black History courses that empower Black students and enrich education for all
Research shows that when students see themselves in their studies and in their teachers, it helps them envision themselves in the world. For Black students in America, Black history and other courses can reinforce a positive self-image, foster a stronger identity, and motivate them to engage more deeply in school and the world. Having a diverse set of teachers and tutors who value their identity are also essential to long-term academic success and overall economic mobility. That's why Reconstruction US was founded by former Washington DC schools Chancellor Kaya Henderson. Reconstruction designs specialized courses in Black history and culture and trains teachers and tutors in how to deliver and incorporate their lessons; not only to supplement students' education during the pandemic, but also to help positively shape Black students' identities, and ensure that students of all backgrounds benefit from a more complete understanding of our shared history and society.
We created Reconstruction to show Black children that they are descendants of powerful, creative, and resilient ancestors whose contributions permeate every aspect of life across the globe.
The organization was founded during the pandemic, when Henderson saw how parents, students and schools were struggling to keep up a bare minimum. At the same time, hostility towards Black History courses and other efforts to ensure students learned about the full spectrum of contributions to American society was becoming more apparent. Determined to renew investment in this vital area of education, Henderson began Reconstruction in 2020. In a short time, they have developed over 150 course options created by a diverse range of highly-accomplished writers and academics, they hired 273 instructors, and reached 10,000 students, with a goal to reach 35,000 in 2023 alone. In 2022, Reconstruction US courses provided over 10,000 hours of extra learning for students across the country, and in the coming year they will expand their offerings to include language instruction, financial literacy, West African cuisine, and more. They are recruiting a new cohort of curriculum writers and piloting new ways of assessing how courses impact student identity and engagement. For America's 7.5 million Black students, and for all students learning about our history and community, Reconstruction is ensuring they get the benefits of the full picture.
13,000+
students reached across the United States
0
national curriculum or set of standards for teaching Black history in America.
150+
specialized courses for different subjects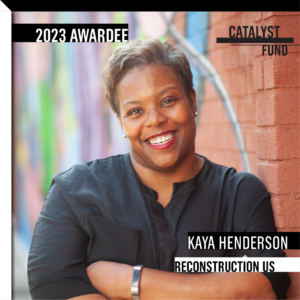 Kaya Henderson is the CEO and Co-Founder of Reconstruction US. Her career has been dedicated to education; as the former DC Chancellor, she oversaw an increase in enrollment graduation rates, student satisfaction, and AP pass rates. She believes a strong curriculum relevant to students' backgrounds provided by a teacher who reflects their identities is the key element of success in education.

view all impact stories