McNULTY PRIZE LAUREATE
Concerned that Palestine's youth, who make up more than 50% of the population, were losing a sense of ownership in government, international development expert Lana Abu-Hijleh founded the Youth Local Councils (YLCs). Voluntary electoral bodies made of Palestinian youth aged 15-22 are elected by peers and mirror the positions and structure of local municipal government councils. This has given thousands of young people a stake in the future and a working knowledge of democratic governance. The YLC model has now been replicated in Honduras, and is soon to enter Ukraine.
20,000 Youth
Elected 700 members in 2016, grown from only 700 in 2008.
20
YLCs established by Lana in the West Bank, with 20 more established independently.
92%
Members said YLCs improve understanding of democracy. 92% rated YLC's as effective.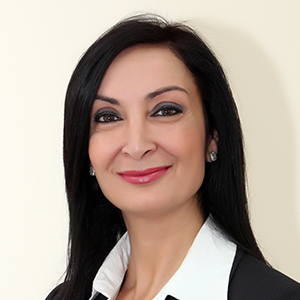 Trained as a civil engineer, Lana has worked in development for 25+ years. Since 2003, she has been the Country Director for Global Communities in Palestine, and previously was the Deputy Resident Representative for Palestine at the UN Development Program. Lana saw promise in what is now known as Youth Local Councils (YLCs). Incubated within Global Communities, the YLC program would harness Lana's and the organization's expertise and support structures. The program would aim to develop youth into accountable leaders who believe in and have experience of democracy, who are non-sexist, who resist factionalism, and who believe in their own agency.
Lana has been Country Director for Global Communities in Palestine since 2003.
Founded by Lana, YLCs were piloted in 2008 in 4 communities under a USAID-funded program. Lana improved and redesigned the program, now present in 41 West Bank communities.
In 2012, the first YLC alum, Yaqoub Marouf, was elected to a formal municipal council.
In 2016, the YLCs were replicated in Honduras. More are to come in Ukraine.
In May 2017, two more YLC alumni were elected to their official municipal councils.
Hope is our survival theme. We cannot afford despair. We have to remain hopeful for ourselves and for our children; for our region and the world.
The Youth Local Councils (YLC's) are elected bodies of young Palestinians (15-22), whose number and organization mirrors that of local elected governments. The YLC's are convened, organized, elected, and administered by the youths themselves, who serve two-year terms of office.
The Council youth are charged with considerable responsibilities and real power. They identify problems in their communities and work together with stakeholders to devise solutions. To deepen their effectiveness, youth are given 300 hours of capacity development on topics such as project management, budgeting,negotiating, public speaking, and gain skills many of their local mayors don't have.
Youth learn and become invested in the democratic system and their communities, and get direct experience not only running for and holding elections, but actively working for change in the community, and seeing governance in practice.
The YLCs have spread across the West Bank and are being replicated around the world to build competency and faith in democracy in Honduras and Ukraine. With a disproportionate amount of the world's population under the age of 30, this could not come at a better time.
We have positively influenced thousands of young people who now know they are relevant. They are respected, they have gained skills; they can be whatever they want to be.
view all impact stories